The book:
Roadside Geology of Georgia
<![if !supportEmptyParas]> <![endif]>
Roadside Geology of Georgia by Pamela Gore and Bill Witherspoon is out and can be obtained from Mountain Press by your favorite bookseller. We hope you will find it well worth the wait: a full-color, 360-page volume for the public and geologists on Georgia's wonders, from the coast to the mountains: landscapes, rocks, minerals, fossils, and the human stories geology has shaped. Click here if you prefer to order online and here to be added to our e-mail list to receive notification of a book event in your area. For currently scheduled events by the authors click here, or visit the Facebook page.
<![if !vml]>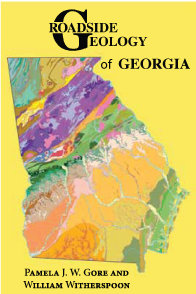 <![endif]>
Obsidian, pumice, blueschist – these are rocks you can't find in Georgia. They probably existed here, but these products of plate tectonics would have been wiped out by later metamorphism. Geology on the Edge is a summer 2014 trip to California's living plate boundary, the home of such rocks. One of us (Witherspoon) is leading it, geared to Georgia and Common Core standards for 5th and 6th grade.
<![if !vml]>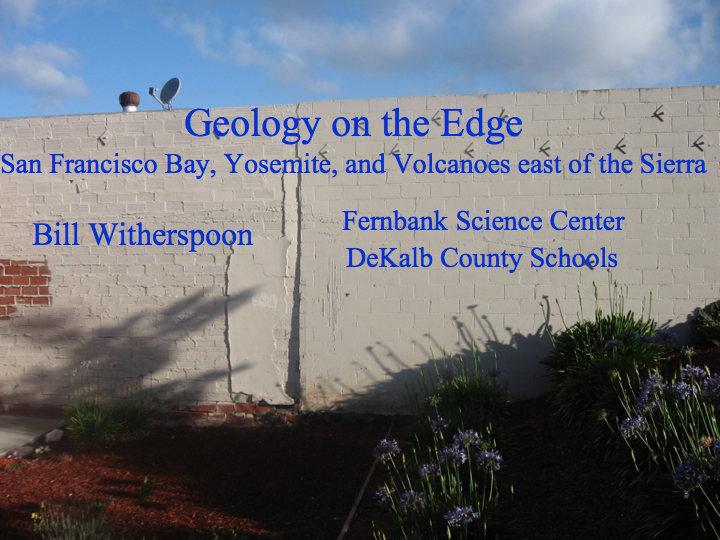 <![endif]>
The opening slide of the trip talk shows a building unfortunately astride the East Bay's Hayward fault. In a sense, most of California straddles the North America-Pacific plate boundary.